Upcoming events, conferences and courses in the field of law, blockchain and FinTech.
Should you wish to be featured on this page, please contact elena@legalico.io
2019
May
Tokenomic, International Conference on Blockchain Economics, Security and Protocols, Paris, France (6-7 May 2019)
Tokenomics  is an international forum for theory, design, analysis, implementation and applications of blockchains and smart contracts. Original interdisciplinary works exploring the conjunction of economic concerns with distributed systems, networks and system security are particularly encouraged.
The goal of the conference is to bring economists together with computer science researchers and practitioners working on blockchains in a unique program featuring outstanding invited talks, selected academic presentations and work in progress presentations. Selected academic presentations will be published in the proceedings of the conference.

Monaco International Blockchain (M.I.B.) Conference, Monaco (7 May 2019)
The Monaco International Blockchain summit is the first professional trade show dedicated to the Blockchain industry in Monaco.
Taking place in the privileged setting of the prestigious Grimaldi Forum, M.I.B. is born from a desire to connect local and international actors of the Blockchain ecosystem, as well as to showcase multiple projects and initiatives related to Blockchain technologies, ICO and DLT.
This new and unique twice-yearly conference provides a dynamic schedule that offers multiple formats such as panel discussions, pitches, cocktails, and B2B meetings.
For more information and a 15% discount on tickets enter the code LEGALICO at:
https://monaco-international-blockchain.io/categorie-produit/ticket/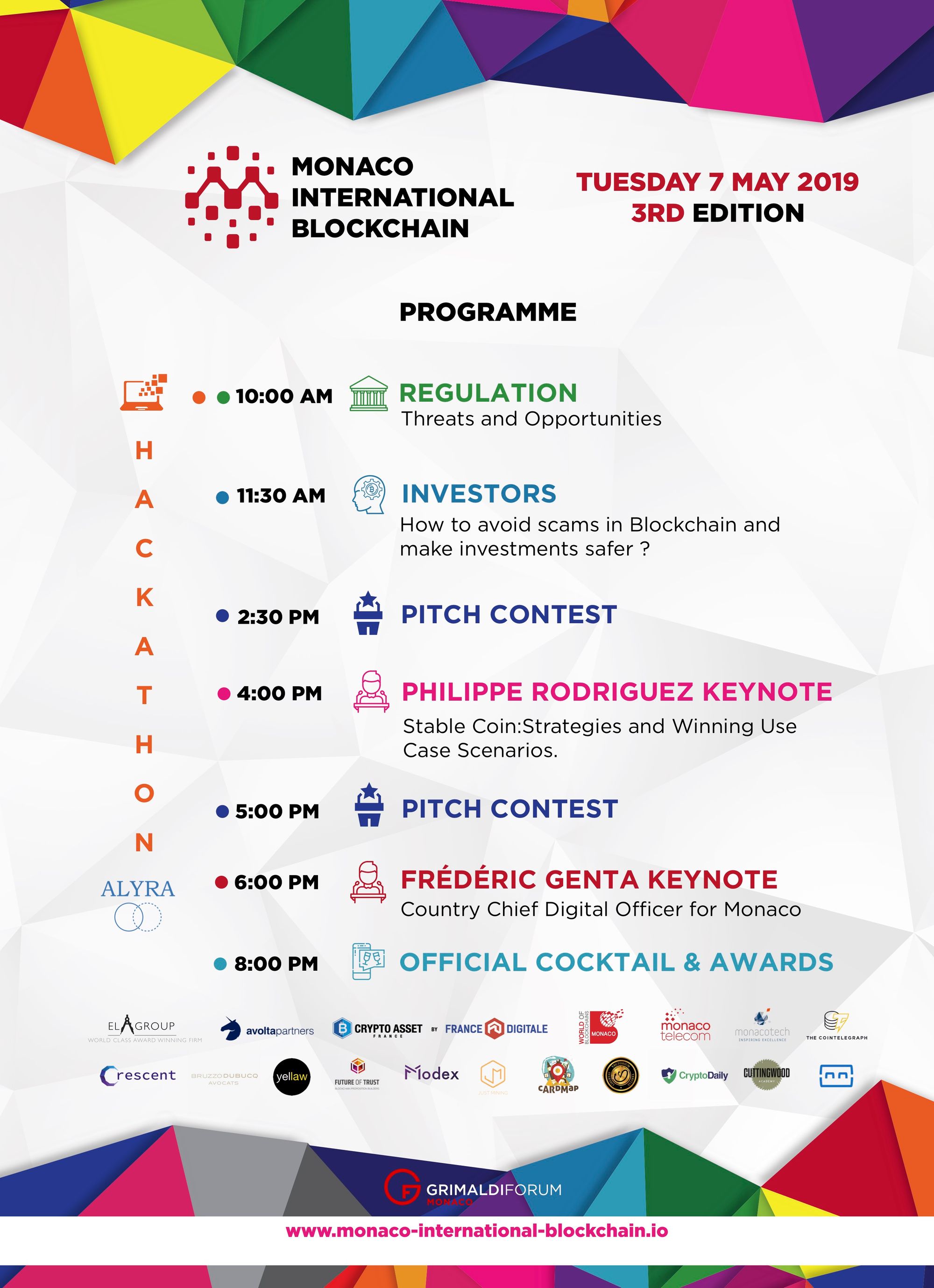 Past Events
2019
April
Defense Strategies Institute Blockchain & Automated IT For Government Summit, Washington DC (24-25 April)
The 2019 Blockchain and Automated IT for Government Summit will provide a forum for members of the US Department of Defense (DoD), Federal Government, Private Industry, Academia, and other relevant stakeholders to discuss the innovative applications of blockchain and emerging automated IT technologies aimed at improving security, efficiency and transparency of key data management and business processes within the Federal IT enterprise.
http://blockchain.dsigroup.org
Blockchain Life 2019 Asia, Singapore (23-24 April)
On April 23-24 more than 3000 attendees from 70 countries gathered in the world's blockchain capital — Singapore. Top crypto companies (Binance, Huobi, Listing.Help, crypto messenger ELVN and others), world famous experts (Tim Draper, Roger Ver, Alex Reinhardt and others), mining giants (Bitmain, Btc.com), representatives of key cryptocurrencies (Litecoin, Dash, Cardano, Neo and others) gave talks about the present and future of blockchain and cryptocurrencies at the 3rd Global forum in Asia.
Speakers discussed the current IEO boom, blockchain hacking and other crypto and regulation trends. In particular, Alex Reinhardt, the founder and CEO of the ELVN crypto-messenger, proposed new rules for ICO in his speech. The main idea is the availability of a finished project with tested monetization and a well-developed community. Companies and investors made dozens of contracts in meeting rooms, expo and VIP areas. Bitcoin also supported the positive wave from the blockchain community and grew by 5% during the event.
One of the forum's highlights was a StartUp Pitch — where various blockchain projects from Italy to China presented their blockchain and crypto ideas. The winner chosen by the jury of private investors and fund's founders was a blockchain based marketing platform Bloomyt.
The next Blockchain Life forum will be held on October 30-31 in Moscow, Russia. The ticket sales start on May 20th at the official website blockchain-life.com.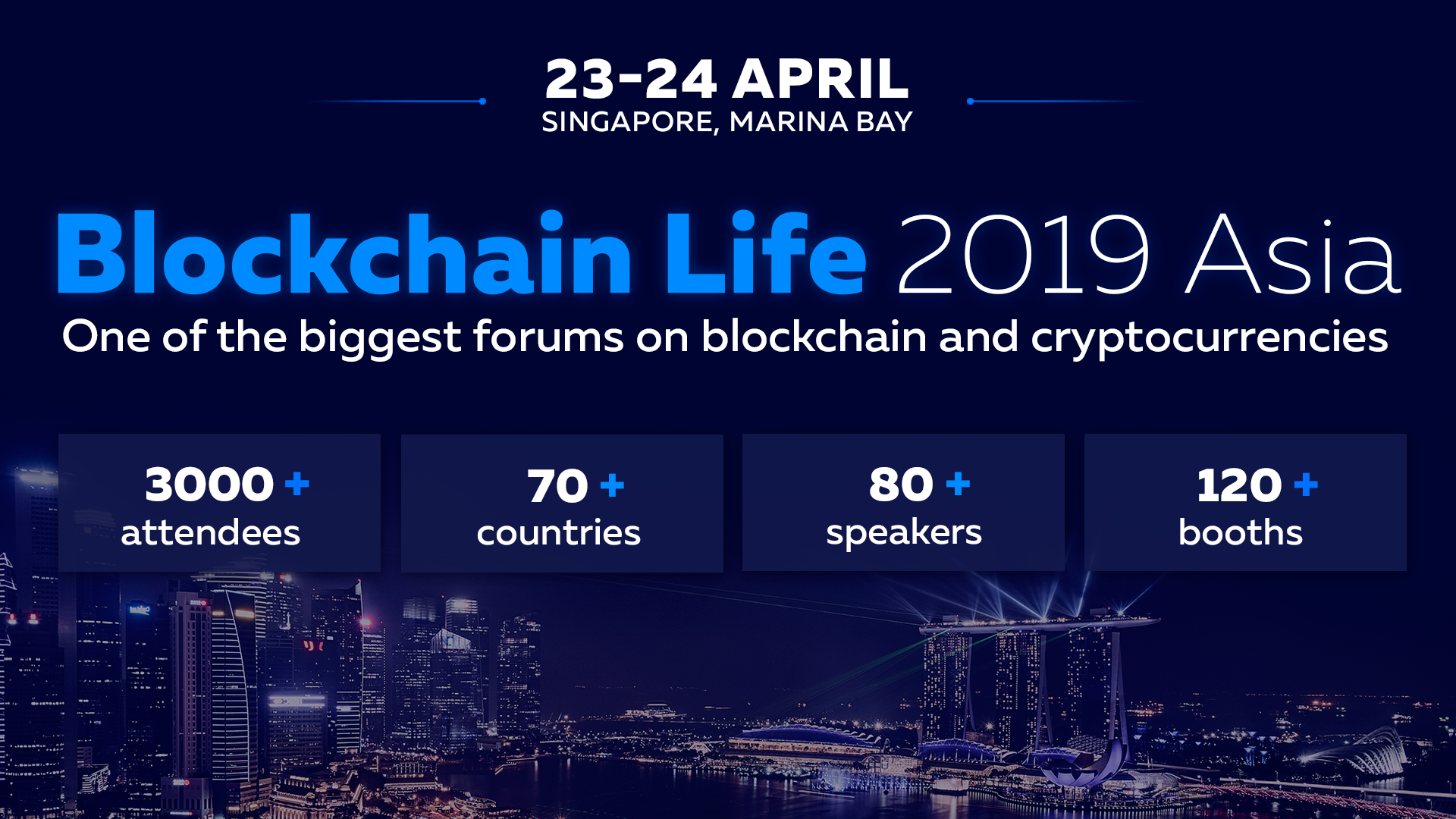 IOHK Summit, Miami, Florida, USA (17-18 April)
As an industry leader in innovative blockchain technology, IOHK will be hosting speakers, partners, and cryptocurrency experts from around the world at this two-day public event.
Taking place from 17-18 April 2019, the IOHK Summit is an opportunity for blockchain enthusiasts and businesses from around the world to meet, collaborate, and learn more about the challenges facing the blockchain industry.
For a 20% discount on tickets enter the code Legalico20 at:
https://www.eventbrite.com/e/iohk-summit-2019-tickets-55204905358?aff=Legalico20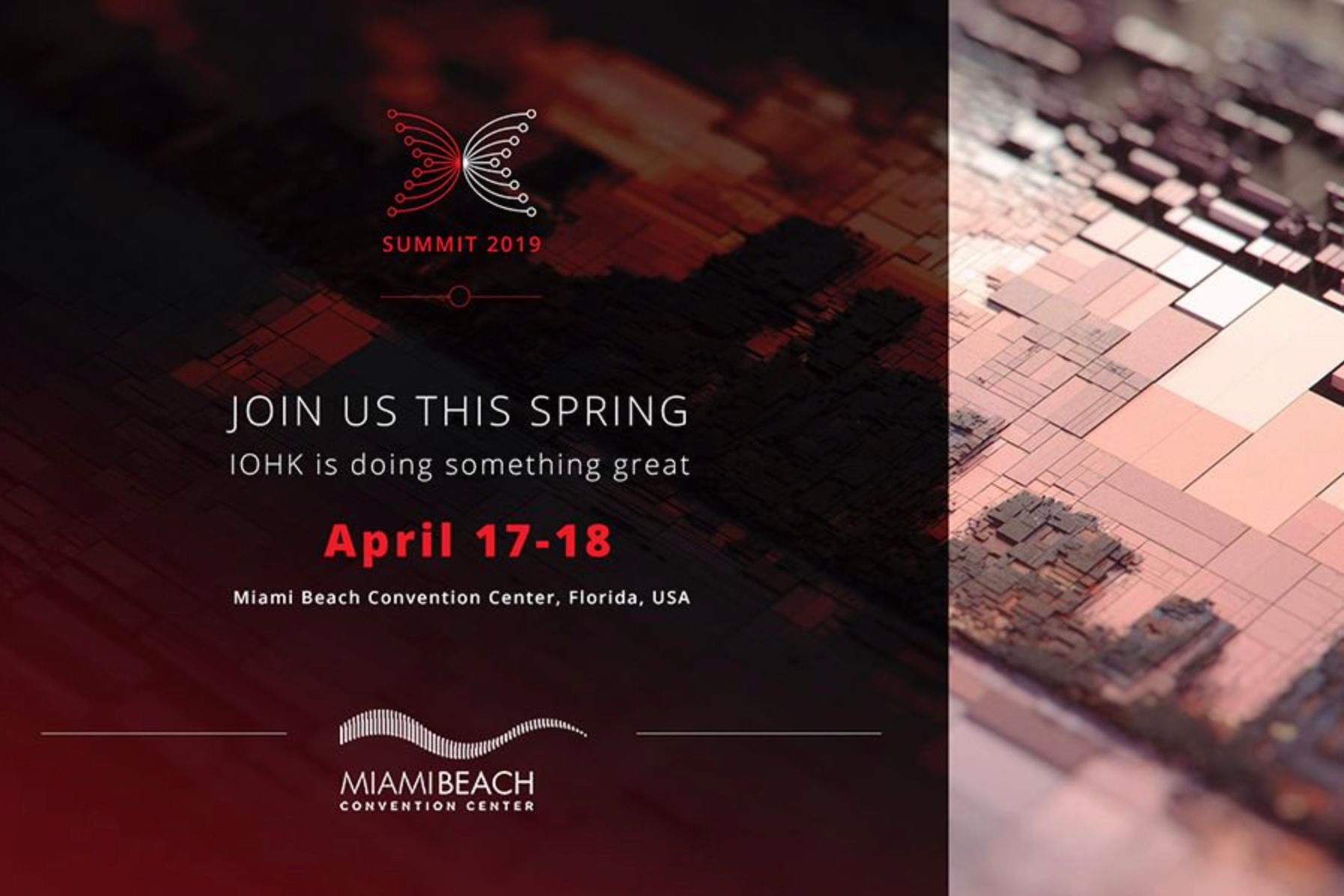 Paris Blockchain Week Summit, Station F, Paris, France (16-17 April)
Paris Blockchain Week Summit is a two-day event in the biggest incubator in the world, Station F.
Supported by the French government, it will gather 1500+ attendees from all around the world and renowned speakers from the most prominent organizations in the blockchain industry.
For a 30% discount on tickets enter the code LEGALICO30 at: